Swami Narayan Vishwa Vikram Samaroh-2′ successfully organized after getting a place in Guinness World Records:
A grand and huge program 'Swaminarayan Vishwa Vikram Samaroh-2' was organized in Mumbai by Shri Swaminarayan Mandir of Shri Hari Satsang Seva Trust (Kundaldham) on 29 January 2022 at Swaminarayan Mandir, Sarvopari Nagar, Mumbai, which was successfully completed.
A huge gathering of idols has got a place in the Guinness Book of World Records
On 18th December 2021, a wonderful idol collection of a total of 7090 forms of Shri Swaminarayan Bhagwan was created in Shri Swaminarayan Mandir Kundaldham, Gujarat, under a program called 'Swaminarayan's Akshardham in Kundaldham'.
This was organized for the development of Indian culture and Hindu religion and for the worship of God. Particularly this huge gathering of idols has got a place in the Guinness Book of World Records as a world record. For this award, a Guinness World Record certificate was presented to the saints of Pujya Gyanjivandasji Swami by special guests like famous flute player Pandit Ronu Majumdar and MP of North Mumbai Shri Gopal Shetty.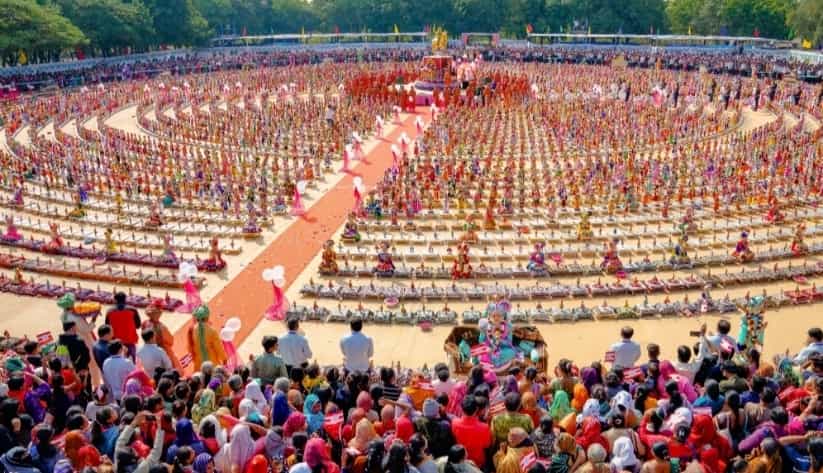 Swaminarayan's Akshardham in Kundaldham, Mumbai
On this occasion, MLA Geeta Jain, Pujya Madhavpriyadasji Swami, Niranjandasji Swami, Aloukikdasji Swami, and many passionate devotees and eminent personalities of Mumbai graced the program with their presence. Inspiring Param Pujya Shri Gyanjivandasji Swami Kundaldham attended the program through video conferencing. After observing this program 'Swaminarayan's Akshardham in Kundaldham', the Guinness World Records team has given it the status of Vishwavikram.
Millions of idols of God
Millions of idols of God built with the inspiration of Pujya Swami Shri Gyanjivandasji are adorned in the homes of devotees all over the world. It has been the spirit of Swamiji that after seeing these beautiful idols of God, people should settle them in the heart so that every person's mind becomes a temple. This work is believed to resonate with the fragrance of Indian culture and the sanctity of Swaminarayan culture across the globe.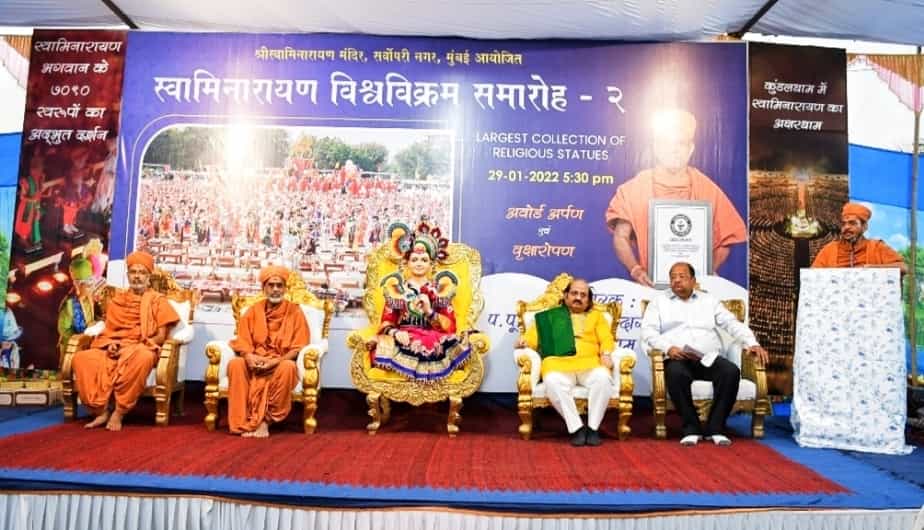 On this occasion, a tree plantation was organized for the protection of the environment of Mumbai metropolis, in which there were blessings of saints along with the blessings of many great personalities. The principles and teachings of Shri Swaminarayan Bhagwan reached the masses.
This program with a unique confluence of religion and environment is an effort of Pujya Guruji Shri Gyanjivandasji in this direction. It was a divine blessing to have this combination of Devotion and Environment conservation. Chief Guests like World-renowned flutist Pandit Shri Ronu Majumdar and North Mumbai M.P. Shri Gopal Shetty were also very much impressed by this auspicious event. Swami Gyanjivandasji believes that this program preached Lord Swaminarayan's motto of 'Every soul's well-being' to the world. It was really fortunate that the lively city of Mumbai hosted such an auspicious function.
Also Read: Trushna Vyas became the Women Vice President RPI (A) of Gujarat State
Latest News and updates, Follow and connect with us on Facebook, Twitter, and Linkedin.
Get the latest updates directly on your mobile, save and send a message at +91-9899909957 on Whatsapp to start.