ECS T10 Malta 2021 LIVE-MTD vs OVR Dream11 Team Prediction, Live Streaming, Mater Dei vs Overseas Fantasy Tips, Probable Playing XI: Today's match will be played between Mater Dei vs Overseas at Marsa Sports Complex, Malta. We will provide you with a match preview of the ECS T10 Malta 2021 and live updates. We will give you the live streaming details also.
Tournament-ECS T10 Malta 2021
Match: Mater Dei vs Overseas
Time: 12:30 & 2:30 pm
Venue: Marsa Sports Complex, Malta.
Also Read: ECS T10 Malta League 2021:Full Schedule, Live Streaming, Squads, Venue, Broadcast and Timing- Mater Dei vs Overseas Squads
Mater Dei
Antony Dharamraj, Michael Nazir, Mohit Panchal, Shamoon Liaqat, Suleman Muhammad, Terminder Sappal, Atif Sharazy, Faisal Naeem, Lazar Sharoon, Salman Khan, Cornelius Younus, Judit Vijexton, Mohammed Sanawar, Muthu Kumaran, Naresh Medak, Uday Maclean, Azeem Sathi, Samuel Aquilina, Shrijay Patel
Overseas
Gerald Sant, Henry Redknap, Tariq Jawed, Tim Cleasby, Alex Meears, Aron Oulton, David Marks, Ethan Xuereb, Jack Barritt, Jean Pierre Ford, Luke Bradley, Michael Hart, Peter Rydzkowski, Andrew Naudi, Callum Burke, Charl Kleinepunte, Christo Viljoen, Clyde Rossouw, Eldon Pillay, Jurg Hirschi, Matthew Towns, Clyde Palmer, Heinrich Gericke, Sean Byrne
MTD vs OVR Playing 11
Mater Dei
Sam Aquilina, Shamoon Liaqat, Cornelius Younus, Azeem Sathi, Sharooon Lazar, Faizal Naeem, Atif Sharazy, Muthu Kumaran, Michael Nazir, Uday Maclean, Mohammed Sanawar
Overseas
Andrew Naudi, Heinrich Gericke, Charl Kleinepunte, Gerald Sant, Clyde Palmer, Jurg Hirschi, Sean Byrne, Christo Viljoen, David Marks, Jack Barritt, Matthew Towns
MTD vs OVR My Dream11 Team Prediction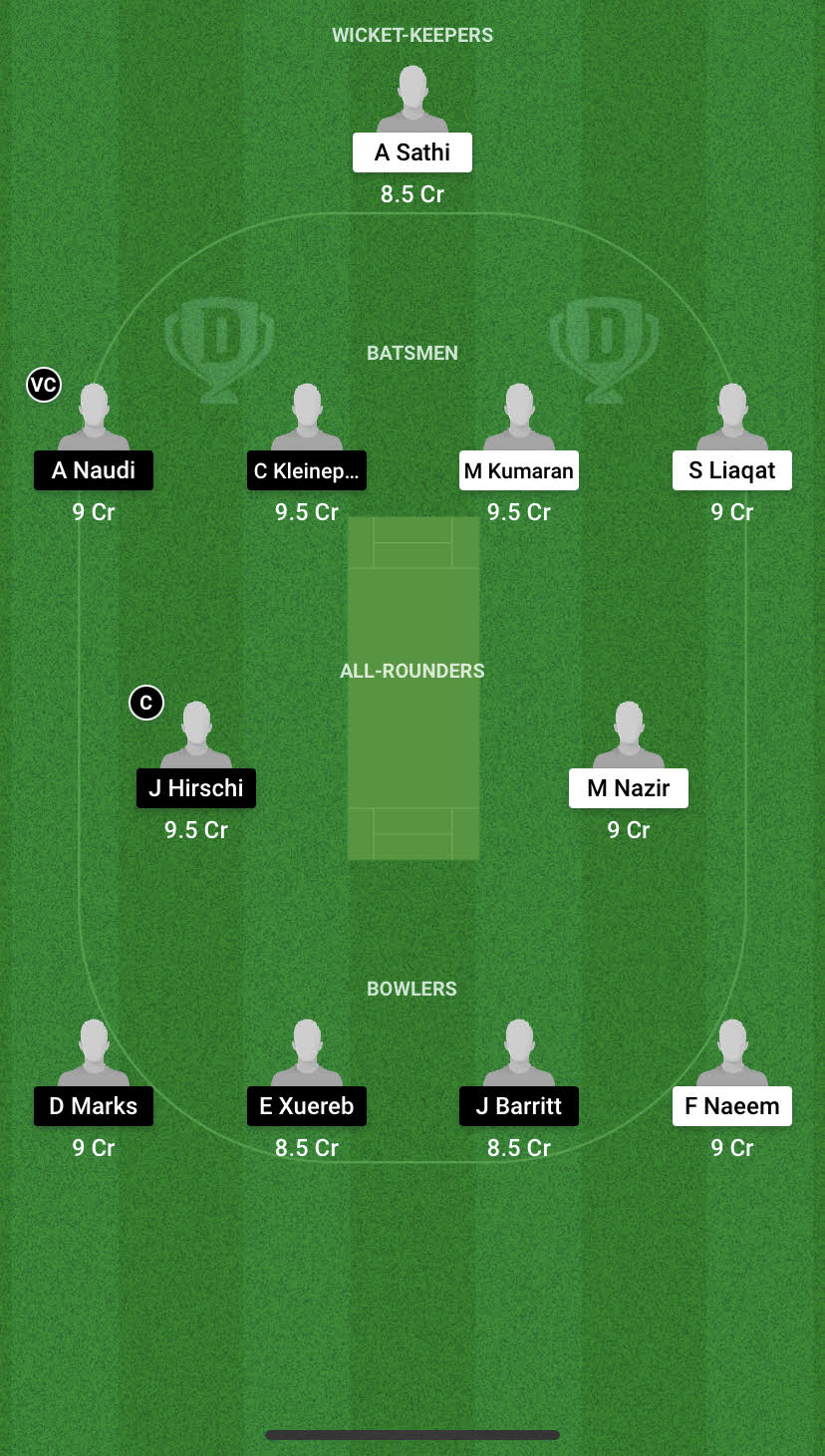 ECS T10 Malta 2021 Match Live Telecast / Live Streaming:
Cricket fans can catch the live streaming of all matches  FanCode app. You can also check out the live updates about the match scores with Times24 TV social platforms. We will update the live scores during the match.
Latest News and updates, Follow and connect with us on Facebook, Twitter, and Linkedin
Get the latest updates directly on your mobile, save and send a message at +91-9899909957 on Whatsapp to start